BEIHAIJIU 203
Time:2012-7-24 Hits:
Loading...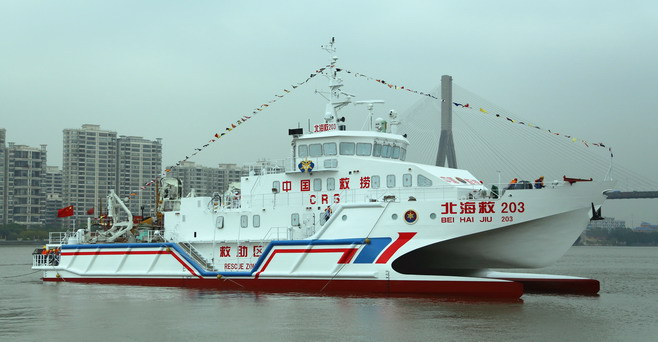 BEIHAIJIU 203
In 2011, our company contracted to build three coastal fast rescue vessels.
BEIHAIJIU 203 is the public welfare vessel built for Beihai Rescue & Salvage Bureau, is of northern vessel types, and mainly used to undertake the social public welfare task of human life rescue speedily at coast of China. This vessel is full aluminum alloy wave-piercing catamaran, adopts twin main engines and twin waterjets, with large deck area, fine navigability, high speed and maneuverability, and with searching and salvaging capacity at night, can carry 200 rescued people, and meets the related requirements to fast vessel of CCS rules.
| | | |
| --- | --- | --- |
| Length Oa:49.9m | Beam Oa:13.1m | Depth:4.5m |
| Draft:1.63m | Passenger:Rescue 200 people | Speed at Full Load:> 30 Knots (Sea trial load,100% MCR) |
| Main Engine:MTU 16V 4000 M73×2 | Propulsion:Waterjet | Range:500 nm (full load) |
| Classification:CCS | Hull and Superstructure Material:Aluminum alloy | Shipowner:BEIHAI RESCUE BUREAU OF THE MINISTRY OF COMMUNICATIONS |