On 27th Dec. 2021, AFAI concluded contracts with Taishan Chuanhang Shipping Co., Ltd for new shipbuilding of 4 units 190 Pax aluminum catamaran fast ferry.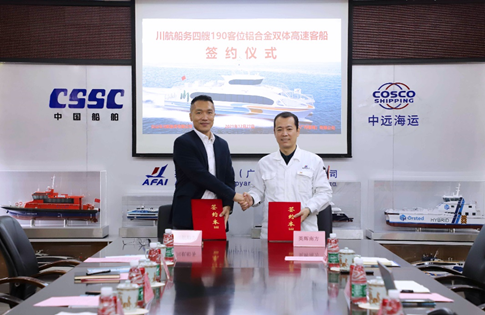 Taishan Chuanhang Shipping Co., Ltd belongs to Guangdong Blue Dolphin Tourism and Transportation Co., Ltd, specially taking charge of fast water transportation for passengers around Taishan and Chuanshan Islands. Under severe impact of Covid-19 on the tourist industry, the owner shows complete confidence to AFAI's products. AFAI will ensure good performance and higher construction quality to do this project well and help the owner to upgrade their fleet, hence to realize win-win cooperation.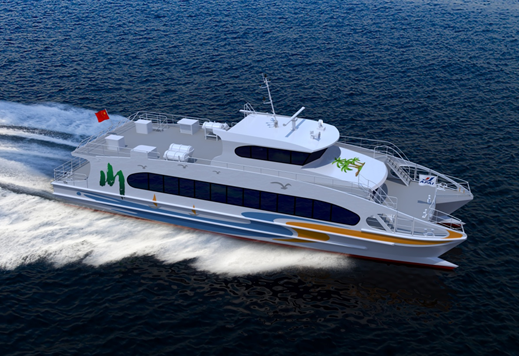 AFAI has rich experience in construction of aluminum catamaran fast ferries. This batch of ferries has LOA of 29.97m, beam of 8.2m, design speed of 22 knots. They are specially designed based on mature parent boat and then optimizing in seakeeping performance, structure, propulsion system and arrangement according to the light draft characteristics around Shangchuan and Xiachuan Islands. Comparing to the RAO response curve in pitch and heaving with general rounded bilge hull forms, the comprehensive seakeeping performance of this ferry increases 15%, which significantly reduces seasickness and increases the comfort of passengers.
Contract Signing Ceremony was held in AFAI with the guests from owner's company and AFAI, including the Secretary of Blue Dolphin – Mr. Cai Haibin, Director of board – Mr. Zhu Huanbiao, GM – Mr. Duan Hui and Vice GM – Mr. Zhu Tangyi from Taishan Chuanhang Shipping Co., Ltd, as well as the leaders from AFAI.