Dated to 31 Dec 2021, China's first 30m class professional wind farm support vessel "Hai Zhuang Feng Dian 001", was successfully delivered to Chongqing HZ Wind Power Technology & Engineering Co., Ltd., which belongs to CSSC HZ Wind Power.
"Hai Zhuang Feng Dian 001" is the first 30m class professional wind farm support vessel in China, which is independently researched and developed, designed and built by AFAI. The construction fully takes account of the characteristics in domestic wind farms and the design concepts of internationally high-level wind farm support vessels, with main dimensions as follows:
LOA: 30.05m; Beam: 9.9m; Moulded depth: 3.2m; Draft: 1.7m; Max. Load: 38t; Propulsion: 2*1007kW main engines.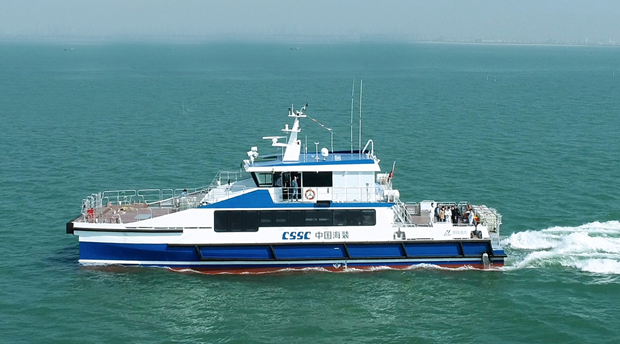 The vessel is an aluminum catamaran, mounted with professional imported rubber fenders, with a trial speed of 25.9 knots, which makes it to be a stable, safe, fast and professional wind farm support vessel. In the meantime, the interior outfitting is built as per the standards of passenger ferry, equipped with imported leather damping seats, which significantly reduces the seasickness and improves the comfort for the passengers under rough sea state. It should be also stressed that the vessel achieves an excellent fuel economy. As under the same speed, it is proved that the vessel can save more than 160L fuels per hour, comparing with other vessels of similar dimensions and sizes.
In the recent years, under the guidance of Carbon Peaking and Carbon Neutrality Goals, domestic offshore wind power industry has developed rapidly, hence the urgent need of professional equipment and installations for operation and maintenance service. The delivery and operation of "Hai Zhuang Feng Dian 001" will greatly improve the operation conditions in offshore wind farm services, and promote the safety and efficiency, as well as help HZ wind power in implementation of New Energy Strategies and in prosperity of marine industry.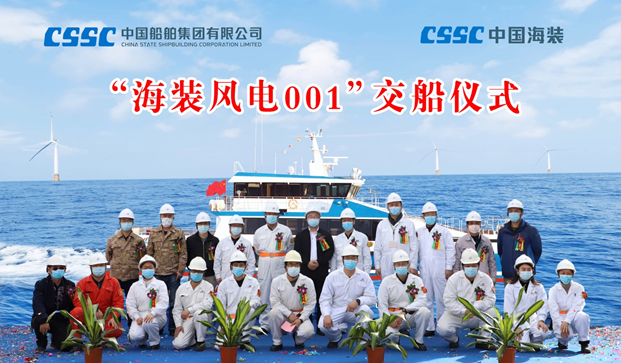 This vessel is the 6th professional wind farm support vessel delivered by AFAI, after delivering high-end support vessels to UK and Denmark. Both the quality and performance of this vessel are leading in China, further strengthening the leading role of AFAI in the domestic market.
Mr. Wen Shusen – Deputy General Manager of Offshore Service Center of Chongqing HZ, Mr. Mei Fuyuan – the Project Manager, leader team of AFAI and the project team members participated in the delivery ceremony.