The keel laying ceremony of the first high-end WFSV ASA121 Yu Feng Zhe in China marine wind farms, built by AFAI for Goldsea Marine and Offshore Engineering Ltd., was held in Afai Southern Shipyard on 18 Feb 2022. Mr. Yang Zhinan - project manager of Goldsea, Mr. Shen Heng - Deputy Director of CCS Guangzhou, Mr. Zhang Weijun - project manager of CCS Guangzhou, AFAI leader team and project team members attended the ceremony.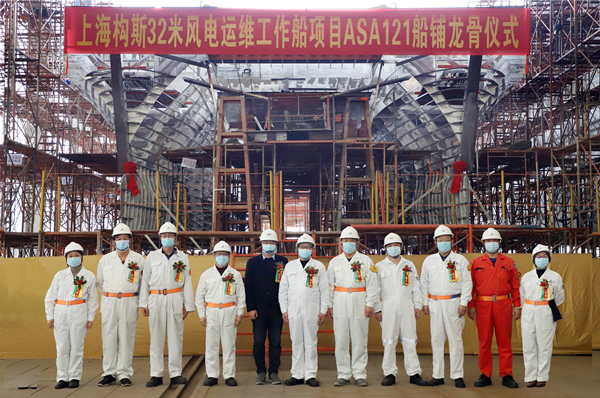 ASA121 Yu Feng Zhe is the first domestic marine wind farm support vessel designed and built in accordance with internationally advanced standards of the same type of vessel. It has a LOA of 32.1m, beam of 10m, designed draft of 1.82m, contract speed of 23 knots, with a capacity of 12 passengers. Propelled by imported main engine, gearbox and CPP, the vessel could ensure the rapidity while taking into account the operability. It can also maintain sufficient thrust when sailing at low speed, making the operation safer and more efficient. ASA121 is the first professional support vessel in China not only reach international standard but also meet internal operating requirements. It will open a new chapter for Chinese professional, efficient and safe marine wind farm support vessel after its delivery at the end of this year.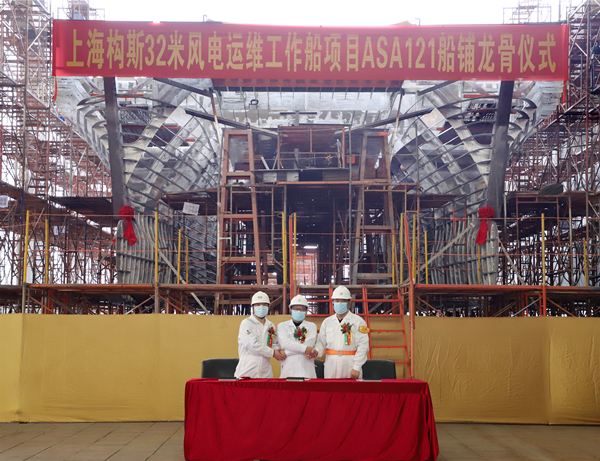 AFAI actively responds to the national requirements of Carbon Peaking and Carbon Neutrality Goals, serves the domestic offshore wind power industry, devotes to the design and construction of high-end and high performance professional aluminum wind farm support vessel, and leads the professional development thereof. At present, AFAI has delivered 6-unit premium aluminum wind farm support vessels to domestic and foreign countries, and is titled a lot of "No. 1", establishing AFAI's leading role in this field. As the world- renowned and leading supplier of high performance aluminum vessel in China, AFAI will always respond to national calls, focus on customers, grasp development opportunities, be driven by innovation, and build high class vessels. It will contribute to promote the splendid development of wind farm support industry in China positively.