On 4 March 2022, AFAI held a ceremony to cut materials for 4 units' 190-passenger aluminum catamaran fast ferries of Taishan Chuanhang Shipping Co. Ltd. (subordinated to Guangdong Blue Dolphin Tourism and Transportation Co., Ltd. under Guangdong Provincial Port & Shipping Group Co., Ltd.). Mr. Chen Yu - Deputy Secretary of CPC and General Manager of Blue Dolphin, Mr. Duan Hui - member of Party Committee, Deputy General Manager of Blue Dolphin and General Manager of Chuanhang, Mr. Wei Yongqiang - Deputy General Manager of Chuanhang, Mr. Li Qingfen - Director of CCS Guangzhou, Mr. Li Shaobo - manager of CCS Guangzhou, Mr. Chen Xiaoliang - General Manager of AFAI and other officials attended the ceremony.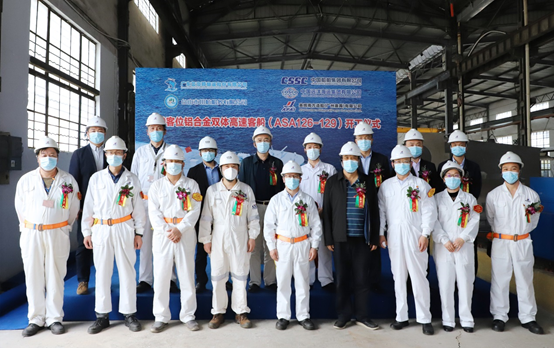 This batch of ferries has a LOA of 29.97m, beam of 8.2m, designed draft of 1.16m, and a designed speed of 22 knots. They are specially designed based on mature parent boat and then optimizing in rapidity, seakeeping performance, structure, and propulsion system arrangement according to the light draft characteristics around Shangchuan and Xiachuan Islands as well as owner's requirements and custom. Comparing to general rounded bilge hull forms, the seakeeping performance of this ferry comprehensively increases 15%, which significantly reduces seasickness and increases the comfort of passengers.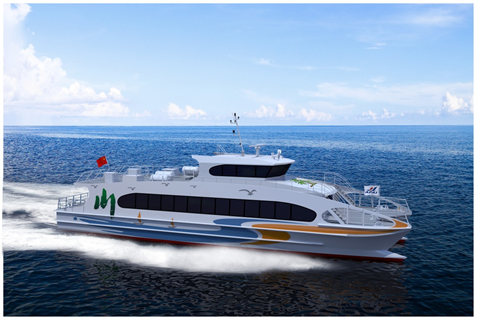 The construction of this series of ships aims to alleviate the problems of insufficient capacity and to upgrade the ship grade, improving the capacity and quality of transportation service in Chuandao Island tourism. It could also promote the transformation and upgrading of ancillary facilities, and make Chuandao tourism stronger and more prosper, which is of great significance for the development of economy and society in Chuandao Island.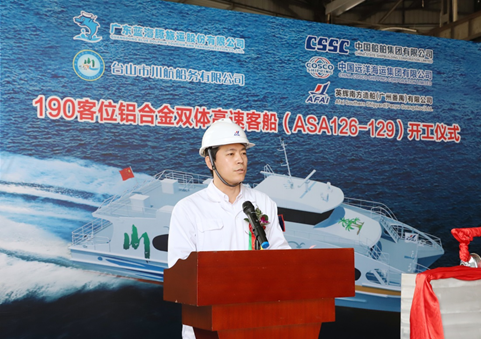 Mr. Chen Xiaoliang delivered a welcome speech to appreciate all guests for their attendance. He expressed that AFAI would rigorously organize and implement the project in the following construction, and build high-quality ships with elaborately technics and perfect management, to reciprocate the owner's trust.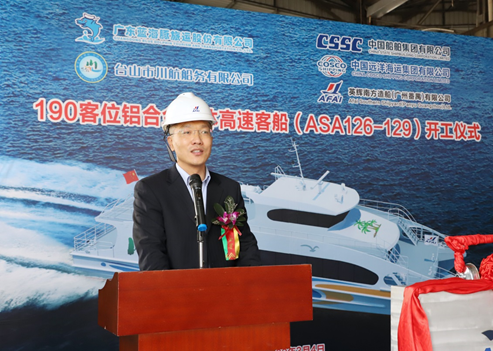 Mr. Duan Hui said that the new 4-ship project would enlarge the scale and improve the ship quality of Chuanhang Shipping, which is a vital step for their brand to be better and stronger. He expects AFAI to deliver ships on time with high quality, to enrich the development of tourism in Chuanshan Islands.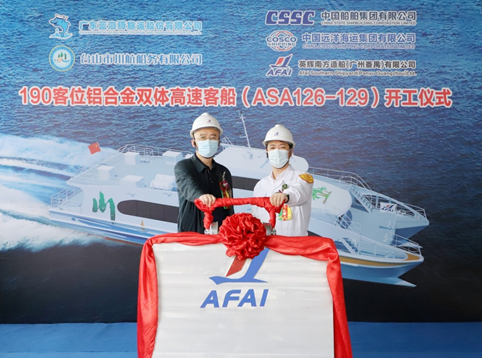 Mr. Chen Yu and Mr. Chen Xiaoliang pull the handle together, marking the successful start of Chuandao Shipping's 4-unit fast ferries.
The R&D, design and construction of high-performance aluminum vessels are the main business of AFAI, who is leading in domestic aluminum ship market such as high-speed passenger ferry, Ro-Pax, wind farm support vessel, pilot boat, public service vessel, yacht, etc. High-speed passenger ferry is AFAI's major ship type among them, whose delivery quantity ranks the first in China and high in the world. More than 60 passenger ferries have been delivered with clients in Denmark, Singapore, Dubai, Korea and other countries and regions. The performance and quality of this type of vessel are recognized by domestic and international clients.