On 28 Feb 2022, Afai Southern Shipyard (Panyu Guangzhou) Ltd. (hereinafter "AFAI") under CSSC Yuanzhou (subordinated to CSSC Group) and Shanghai Merchant Ship Design & Research Institute (hereinafter "SDARI") under CSSC Group officially signed the construction contract of the first domestic medium-sized intelligent yacht in Shanghai.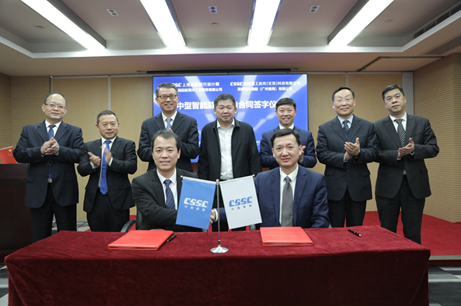 The yacht is approximately 17.8m in LOA, with a maximum capacity of 12 crew, a maximum speed of 18 knots, and a duration of 200 nm. It is equipped with an intelligent system for autonomous navigation and self berthing/ departing, and a gyrostabilizer, which are all developed by SDARI. Two high-speed main engines with power of 441kW and 50kWh lithium battery are fitted in the yacht, with a classification of CCS. The yacht will sail around Hainan province and the Guangdong, Hong Kong and Macau Greater Bay Area.
Mr. Chang Wenjun - Deputy Director of Techology Department of CSSC Limited, Mr. Lv Zhiyong - Director of SDARI, Mr. Wang lin - Secretary of the party committee of SDARI, Mr. Wang Gangyi - Chief Engineer of SDARI, Mr. Sun Dongsheng - Chairman of CSSC Yuanzhou, Mr. Han bin - General Manager of CSSC Yuanzhou, Mr. Li Ming - GM assistant of CSSC Yuanzhou, Mr. Wang Xiaobo - marketing director of AFAI and other officials attended the signing ceremony.
Mr. Li Lu - Vice President of SDARI and Mr. Chen Xiaoliang - General Manager of AFAI signed on the yacht construction contract.
The cooperation between two vigorous companies, SDARI and CSSC Yuanzhou, shall develop intelligent yacht with stringent standard and high quality, which could enrich the yacht tourism market and contribute their wisdom and strength to ships in China. Furthermore, this project meets people's growing demand for a better life, boosting the high-quality development of China's emerging marine economic equipment industry.
Since its establishment in 1992, AFAI has delivered hundreds of miscellaneous aluminum vessels, with numerous high-class cruisers and yachts for domestic and international clients. Through these projects, AFAI has accumulated abundant construction experience in aluminum ships, and has established internationally technical standards. AFAI will further explore medium-high yacht market after the signing ceremony, promoting the yacht construction in depth and breadth.
The signing of the construction contract for this medium-sized intelligent yacht is a milestone for both parties to implement the strategic deployment of CSSC Group on developing emerging marine economic equipment industry. It could also advance the research and development of premium yachts, cultivate its market, and create the brand of "CSSC intelligent yacht".